Properties
Madison Capital and its various funds own and/or manage mineral and royalty interests in eleven states. Several of these interests reside in some of the most exciting plays in North America. The map below highlights a number of those areas and briefly describes their characteristics.
Click a state for information on funds in that area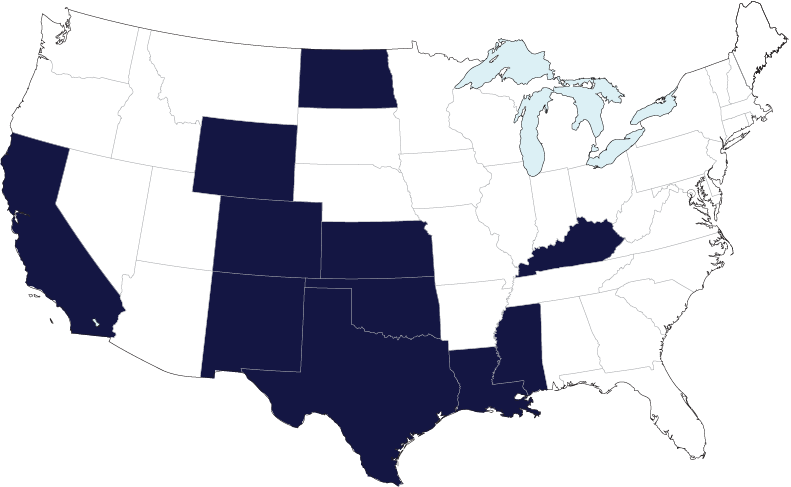 The San Juan Basin
The San Juan Basin is one of the most prolific natural gas producing regions in the country, located in northwestern New Mexico and southwestern Colorado. It is roughly a circular area of 15,000-20,000 cubic miles of sedimentary rock. The San Juan Basin produces approximately 70% of all the natural gas in New Mexico.
According to the Energy Information Administration (EIA), "the San Juan Basin contains the nation's largest field of proved natural gas reserves." It supplies roughly 8% of the nation's natural gas supply. The U.S. Geological Survey estimates that the Basin holds 50 trillion cubic feet (TCF) of natural gas reserves, in addition to the 30 TCF already produced.
The Eagle Ford Shale
The Eagle Ford Shale is a liquids rich hydrocarbon formation in South Texas located between the Austin Chalk and Buda Limes formations at depths between 4000 and 12,000 feet. It has three distinct areas that produce oil, liquids, and dry natural gas. The first well in this play was drilled by Petrohawk in 2008. In 2011, 2,827 drilling permits were issued and over 1,700 wells were drilled. Permits in the area for 2012 look like they will double the 2011 total. There were over 1,000 producing wells on the Eagle Ford at the end of 2011.
This is one of the hottest formations in North America with an estimated $25 billion spent in South Texas on drilling this formation alone. As of July 2012, there were over 271 drilling rigs running on the formation. Chesapeake, EOG, Petrohawk, Marathon Oil and ConocoPhillips are the largest operators in the play.
The Bakken Shale
The Bakken shale is primarily an oil play. It straddles the US border with Canada and runs through two states – North Dakota and Montana – and two Canadian provinces – Saskatchewan and Manitoba. The US Geological Survey estimates there are 3.65 billion barrels of recoverable crude oil in the Bakken, which would make it the largest oil field in the US outside Alaska. The Bakken is located in the Williston Basin, but not all of the basin includes the Bakken.
The Sanish-Three Forks area is located below the Bakken shale zone and is potentially another new oil reservoir. Brigham Exploration Co. has been active in this area. Natural gas is also found in some parts of the Bakken. The USGS estimates there is about 2.0 trillion cubic feet of gas and another 150 million barrels of natural gas liquids. Major players in the Bakken include EOG Resources, Continental Resources, and Enerplus Resources.
Thanks to hydraulic fracturing or "fracking" and high oil prices, oil production in the Bakken has exploded. It went from a mere 3,000 barrels a day in 2005 to 225,000 in 2010, according to the government's Energy Information Administration. EIA thinks it will produce 350,000 barrels a day by 2035, but most analysts think that estimate is far too low.
The Niobara Shale
The Niobrara shale formation is situated in northeastern Colorado and parts of adjacent Wyoming, Nebraska, and Kansas. Primarily an oil play, it is in the Denver-Julesburg Basin, which has long been a major oil and gas province.
An emerging play, the Niobrara is in its early stages and companies have been busy leasing land for future drilling. The Niobrara in the next eight years will quadruple production of oil and dry gas, and double in natural gas liquids from all vertical, directional and horizontal wells, though new technology in horizontal drilling has really been the driver of the growth.
It is expected the Niobrara's oil production which was 58,000 barrels per day last year to jump to 250,000 barrels a day or more by 2020. Dry gas production, measured at 515 million cubic feet per day in 2011, will be about four times larger in 2020, or about 2 billion cubic feet. Natural gas liquids, which in 2011 came in at 79,000 barrels per day, would double by 2020. Samson Oil & Gas is one of the earliest companies to establish a position in the Niobrara, which some call the "NeoBakken."
Other operators include EOG Resources, Anadarko Petroleum, SM Energy, Noble Energy, Chesapeake Energy, Whiting Petroleum, Quicksilver Resources, MDU Resources, and Bill Barrett Corp.
The Granite Wash
The Granite Wash is located in the Northern Texas panhandle and in Western Oklahoma, and is present in several different zones at depths from 11,000 to 12,500 feet deep. The term Granite Wash refers to the weathering process that granite underwent over time, and is another name for the sandstone created during that process.??
The Granite Wash play (Texas) has emerged as one of this fastest growing liquid plays with an approximate 33.3% boost in production from 2009 to 2010. Crude oil grew by 12.7, from 1.37 MMboe (Million Barrels of Oil Equivalent) in 2009 to 1.54 MMboe in 2010, whereas condensates grew from 2.69 MMboe in 2009 to 3.86 MMboe in 2010 – an increase of 43.7%.
It is no surprise then that oil and gas companies have redoubled their Granite Wash drilling activities over the last year. In 2011, 495 drilling permits were issued, but this jumped by 18% to 574 by the end of the year. The most popular spot in the play is Wheeler County, which alone had 287 permits issued in 2011, representing a surge of 38.6% over the previous year.
Energy experts expect overall gross production from the Texas section of the Granite Wash to reach 42.8MMboe by the end of 2015, and climb higher still to 73.6MMboe in 2020 when production levels are predicted to stabilize.
Mississippi Lime
A potential river of oil occupies what is called the Mississippi Lime - porous limestone formations in northern Oklahoma and southern Kansas. It is quickly becoming one of the hottest oil and gas formations in North America. The liquids-rich region, considered tapped out by vertical drilling decades ago, has been yielding reservoirs to horizontal operators such as SandRidge, Chesapeake, Devon and Tulsa-based Eagle Energy LLC during the past three years.
The Mississippian limestone or Mississippi Lime play started around 2009 with the first horizontal wells in Oklahoma with SandRidge Energy leading the way. Three years later, companies like Devon, High Mount, and Calyx are opening up a horizontal Woodford play in the same area.
However, what makes the Mississipian limestone play somewhat unique – and attractive – is that it is very low-tech. At the same time, it is very cost-effective to drill into the formation with well costs ranging around US $2.8 million to $3.5 million.
The Permian Basin
The Permian Basin is an oil field located in West Texas and adjoining areas of southeastern New Mexico. The Permian Basin oil fields covers an area approximately 250 miles wide and 300 miles long. The Basin's first commercial oil well came online in 1921.Both Midland and Odessa have since gone through numerous booms and busts as this area has been the center of North America oil activity for almost a century. The basin is home to the Spraberry, Wolfcamp, Bone Spring, Avalon and Devonian formations, among others, that range in depth from a few hundred feet to five miles below the surface, according to the Texas Railroad Commission.
The area is still the premier oil producer in the U.S. and new technology has enhanced it to levels of production not seen since it peaked several decades ago. The number of rigs drilling in the Permian basin has grown five-fold since mid-2009 to 500 rigs in may 2012, the U.S. Energy Information Administration (EIA) said in July.
Some industry groups estimate current Permian oil production is at 1.29 million bpd. Railroad Commission data shows the basin produced more than 767,000 bpd in 2011.
As part of the firm's acquisition strategy, Madison Capital acquires the vast majority of its mineral and royalty interests on acreage leased by large, well capitalized operators. They include:
Anadarko Petroleum,
Apache
Aries Operating
Bill Barrett Corporation
Breck Operating Corp.
Caerus
Cheasapeak
Citation Oil & Gas Corp
Clayton Williams
CML
Comet Energy
ConocoPhillips
Dan A Hughes Company
DCP Midstream
Devon Energy Production Co.
Don L Bishop
Dugan Production Corp.
Ed Nichols Operating
Edwards Development Corp
Endevor
Energen Resources Corp
Enervest
EOG
Escambia
Fidelity Exploration & Production
Forest Oil Corporation
HEP Oil GP, LLC
Holly Refining
J. M. Huber Corporation
Kaiser Francis
Keer McGee
Kennedy Oil
KP Kaufman
Lance Oil & Gas Company
Linn Operating
Marathon Oil Company
Merrion Oil & Gas
Mountian Hawk Energy
MV Purchasing
Nadel and Gussman
NCRA
New Dominion
Noble Energy, Inc.
Patriot Energy Resources
Petro-Canada Resources Inc.
Petromax
Pinnacle Gas Resources, Inc.
Plains Marketing
PLO
Pure Petroleum LLC
Range Resources
RC Resources
Redstone Resources, Inc
Reed and Stevens
Samuel Gary Jr. And Associates
Scissortail Energy
Smith and Marrs
Southern Dome
Southern Dome Energy
St Mary Land & Exploration Co
Storm Cat Energy Operating Corp
Sunoco
Telesis
Texon LP
The Termo Company
Three Rivers
Tripp and Sons
United Petroleum Purchasing
Vanguard
Williams Production Company
XTO Energy Inc
Yates Petroleum Corp